Irasshaimase.... Welcome to my humble Dojo
The place where I display all the images of Video Game & Anime characters that I made,
there's also a small section of wallpapers that you can use and please notify me if you're satisfied or
if you got some suggestion about what I should do for the future projects..
I also welcome if you like to draw characters from video games or anime style, as my guest at the
Guest Artist section, please contact me if you interested.
This site will be update every 10 days....
So, Enjoy your visit, look around and have fun...!
Be sure to visit again in the near future
SSSSKRRREOOOONNNK . . . !!!,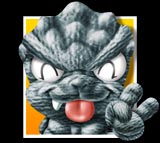 '526'