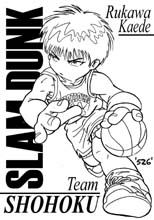 It's Sakuragi's team-mate... The cool headed
RUKAWA from Slam Dunk manga

She's young...., she's brave...., she's cheerfull,
she's SAKURA from the SF Alpha series
CLICK ON THUMBNAIL TO VIEW!

Super Saiyan 3 Son Gokou..., lookin'
tough and desperately need
a haircut !

CLICK ON THUMBNAIL TO VIEW!

Another version of Trunks, this one is from
the Dragon Ball GT series....
Sheesh...., how many Trunks are there
anyway ?
....Do we really need another Trunks ?

A sketch of Chun Li and Ryu
...say, they make a lovely couple
don't you think ?

It's the powerfull Long from
the Bloody Roar series in his alternate
Tiger form.... ROAAAAAAR !